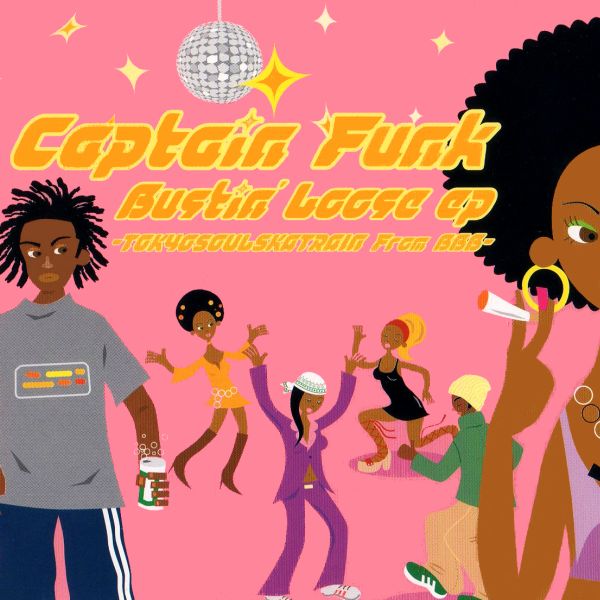 December 16, 1998
Captain Funk
Music Mine/Sublime
Get down and boogie
This maxi-single CD includes "Bustin' Loose," "Kung-Fu Ska," and "Twist & Shout" which helped Oe to spread Captain Funk's name and music style drastically into the dance music scene at the time.
Soon after releasing the debut album "Encounter with…," Oe began to be asked to remix tracks of leading Japanese techno artists such as Ken Ishii and Denki Groove. Also, in addition to launching his resident party MACHINEGUN in Tokyo, he was invited to numerous DJ gigs and music festivals both in Japan and overseas such as Global Tekno (France). Those experiences led him to commit himself to producing more characteristic and dancefloor-oriented tracks that could allow him to stand out in the scene.
Being electronic-based but eclectically combined with his particular influences of R&B/soul and funk music, these tracks were highly acclaimed and played across the globe by the top Big Beat/Break Beat DJs, such as Fatboy Slim, Freddy Fresh, and Krafty Kuts. The episode that Norman Cook (aka Fatboy Slim) described this record as "F***ing insane!" and demanded extra copies is well-known to Oe's fans.
"Twist & Shout" was featured as the theme song of SABU's movie "Monday," which won the International Film Critics Association Award at the Berlin International Film Festival.
Tracklist
1. Bustin' Loose
2. Kung-fu Ska
3. Twist & Shout
4. Party Up (Boogaloo Reconstruction)
Store link