Captain Funk's new album has finally arrived with more melodic and house-oriented tracks. The new album "Sunshine" brings a bright light to the summer dance music scene.

Album Description
After two years since "Heavy Metal" and "Heavy Mellow" albums got highly reputed by both music fans and critics, Captain Funk's anticipated new album finally got released. With his out-of-Japanese music composition style, while this album remains as powerful and danceable as the last albums, it has added more catchy, melodic elements. Also, as the title indicates, the album is filled up with a bright summer flavor. Notable tracks are radio-friendly "Weekend," "Get You Tonight," featuring promising vocalist Adnan Kurtov, and "Piece Of You, a lovely house track sung by Meri Neeser, who is known as a singer of the popular "Hey Boy, Hey Girl."
While "Girlfriend" is a light pop song featuring a scat on the new-wave-disco-funk track, "Sunshine," a guitar-driven electro-rock song, will get your adrenaline up. With all the pieces, energetic sounds and catchy melodies are well-incorporated. House and Electro music lovers and old-school Disco, Funk, or even Rock fans will enjoy the catchiness and versatility.
As bonus tracks, Oe's house remixes of "Hey Boy, Hey Girl," an internationally famous tune from "Heavy Mellow," are added under the name of Playmodel!
(Addendum)
All these tracks are included in 2013 releases "Chronicles 2007-2013, Vol. 1 & 2," which are literally the collection of tracks which have been produced since 2007 under the moniker of Captain Funk.
"Chronicles 2007-2013 Vol.1" Album page
"Chronicles 2007-2013 Vol.2" Album page
Captain Funk's "Bustin' Lose EP" was the final Sunday punch to the 90's Japanese dance music history, absolutely no doubt. After ten years, Tatsuya is just about to bring another masterpiece to the 2000s decade, which should be incredible!!

(Tomoyuki Tanaka/FPM, DJ/Music Producer)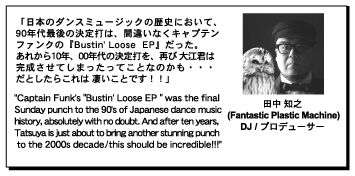 Have you ever heard such catchy and all-direction dance music? "Weekend," which sounds almost like being possessed by Michael Jackson in his prime, is particularly a gem.

(bounce)
The way he pursues "pop" in this album is overwhelming, which almost makes me wonder if there has ever been high-quality dance music crafted like this.

(Oops!)
If you're looking for music to listen to, you should choose good one like this.

(Spring)
This album, filled with outstanding melody as sustainable as that of Brian Wilson and Kyohei Tsutsumi, clearly answers the question if popular music can survive in the 21st century.

(Studio Voice)
This album includes straight-ahead radio friendly songs. His attitude toward pushing the envelope to make outstandingly pop music reminds me of his 90's masterpiece "Bustin' Loose EP.

(CD Journal)
Tracklist
1. Endless Days 2:48
2. Weekend (Kissing, Touching, Tasting, Loving) [feat. Adnan Kurtov] 3:58
3. Rise 4:56
4. Girlfriend (feat. Adnan Kurtov) 4:42
5. Piece of You (feat. Meri Neeser) 4:50
6. At the Beach 4:17
7. Sunshine 5:32
8. Just Wanna Get You Tonight (feat. Adnan Kurtov) 5:00
9. King of the Highway 2:56
10. Leaving 3:22
11. Anymore 1:44
12. Summer Nights 7:54
13. Hey Boy, Hey Girl (feat. Meri Neeser) (Playmodel Daytime Remix) 5:41
14. Hey Boy, Hey Girl (feat. Meri Neeser) (Playmodel Nighttime Remix) 6:27
15. Hey Boy, Hey Girl (feat. Meri Neeser) [Digikid84 Remix] 3:52
CD Store Links
Sunshine CD page on Amazon.com

Press & Chart Info
"Weekend" got ranked No.5 at FM COOLO "Hits40″ (Japanese international radio station program).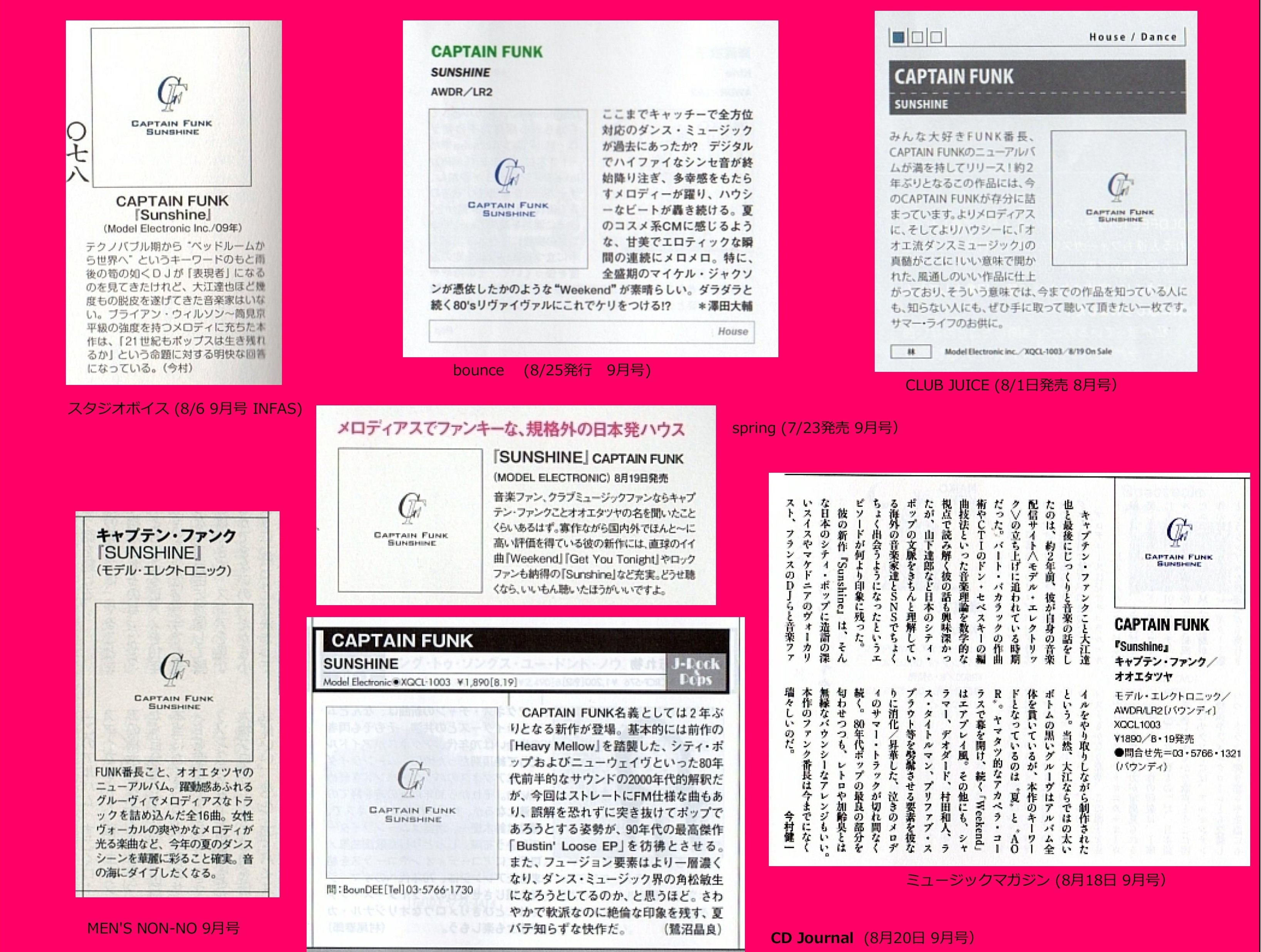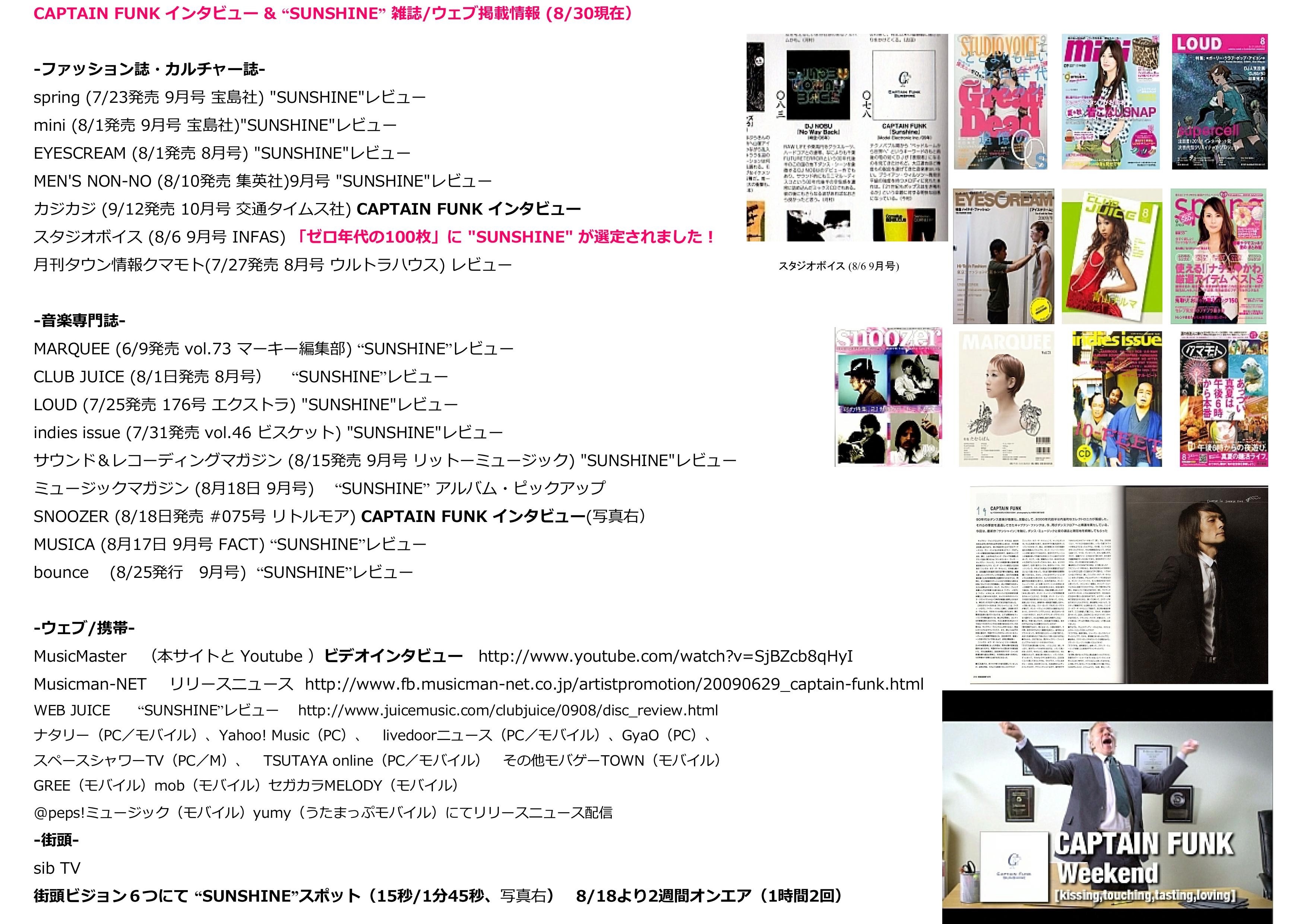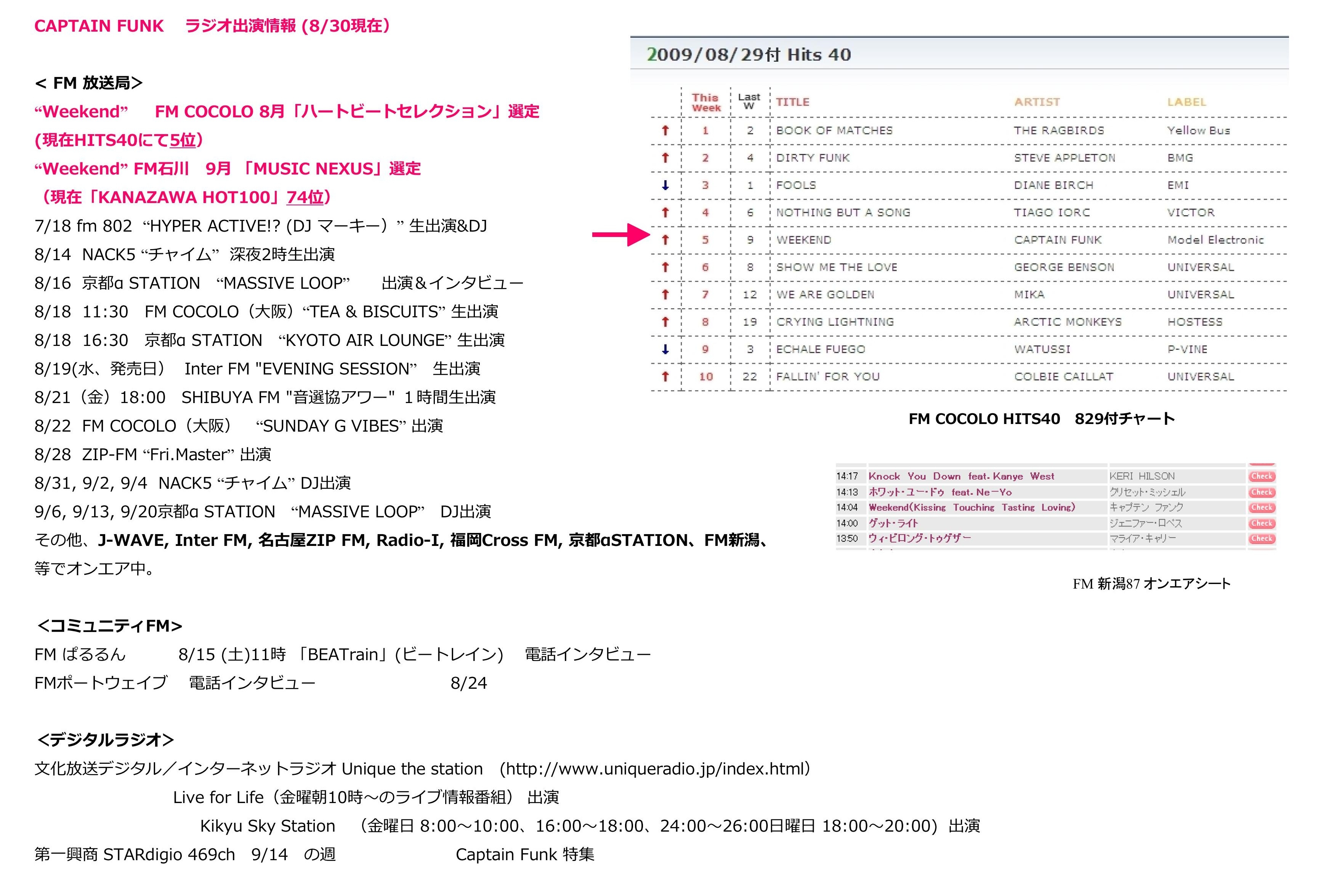 These tracks are excerpts from Tatsuya Oe's composition and production works. Regarding media synchronization such as advertising, film/TV, video games, etc, third parties must obtain proper commercial licenses prior to any usage of the musical works contained herein which are considered to be protected musical works. Please contact us via License Form to obtain a license. Several tutorial pages for music licensing are available as well.