Oe contributed an exclusive interview to "The Little Big Beat Book," authored by a British DJ/writer Rory Roy and published by New Haven Publishing Ltd. Looking back on the Big Beat era in the late 90's, he discussed how the Japanese club music scene was as well as Captain Funk's "Bustin' Loose EP" which had been acclaimed by top-notch Big Beat DJs such as Fatboy Slim and Freddy Fresh.
The official street date is the 10th of September 2018.
Publisher: New Haven Publishing Ltd
ISBN-10: 1912587092
"The Little Big Beat Book" on Waterstones (UK)
Amazon US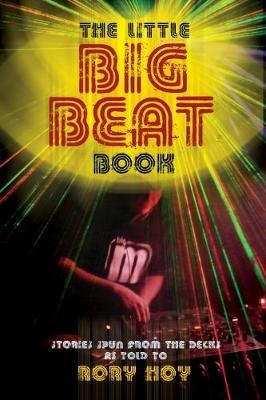 The author has been working on a lot of promotions including an interview with Craig Charles for his BBC6 Funk & Soul Show, which will be broadcast on the 15th September – he will play a 30 minute DJ Mix on the show including 'Twist and Shout' by Captain Funk.
Here is a sample of the contributors to this book (except for Tatsuya Oe/Captain Funk).
Fatboy Slim (Norman Cook), The Prodigy (Liam Howlett and Keith Flint), Chemical Brothers manager Robert Linney, Damian Harris (AKA Midfield General – Founder of Skint Records), Mark Jones (Founder of Wall of Sound), Jon Carter, Bassbin Twins, Propellerheads, Wiseguys ('Ooh La La'), Freestylers, Derek Dahlarge, Bentley Rhythm Ace, Stephen Hall who ran Junior Boys Own Record Label (Chemical Brothers' First Label), Cut La Roc, Dub Pistols, John Mekon, Robin Turner (Heavenly Social Founder and Promoter), Gareth Hansome (Big Beat Boutique Founder and Promoter), Justin Robertson (from Lionrock), Lindy Layton (Beats International 'Dub Be Good To Me'), Howie B, Freddy Fresh, Fuzz Townsend, Apollo 440 ('Stop The Rock' and 'Lost in Space'), Simon Shackleton, Mr. Scruff, Jadell, Nick Faber, Robert Luis, Kidda, Max Sedgley, Aldo Vanucci, Gramma Funk ('I See You Baby'), Alex Hardee from CODA Agency (Liam Gallagher's Agent), etc.